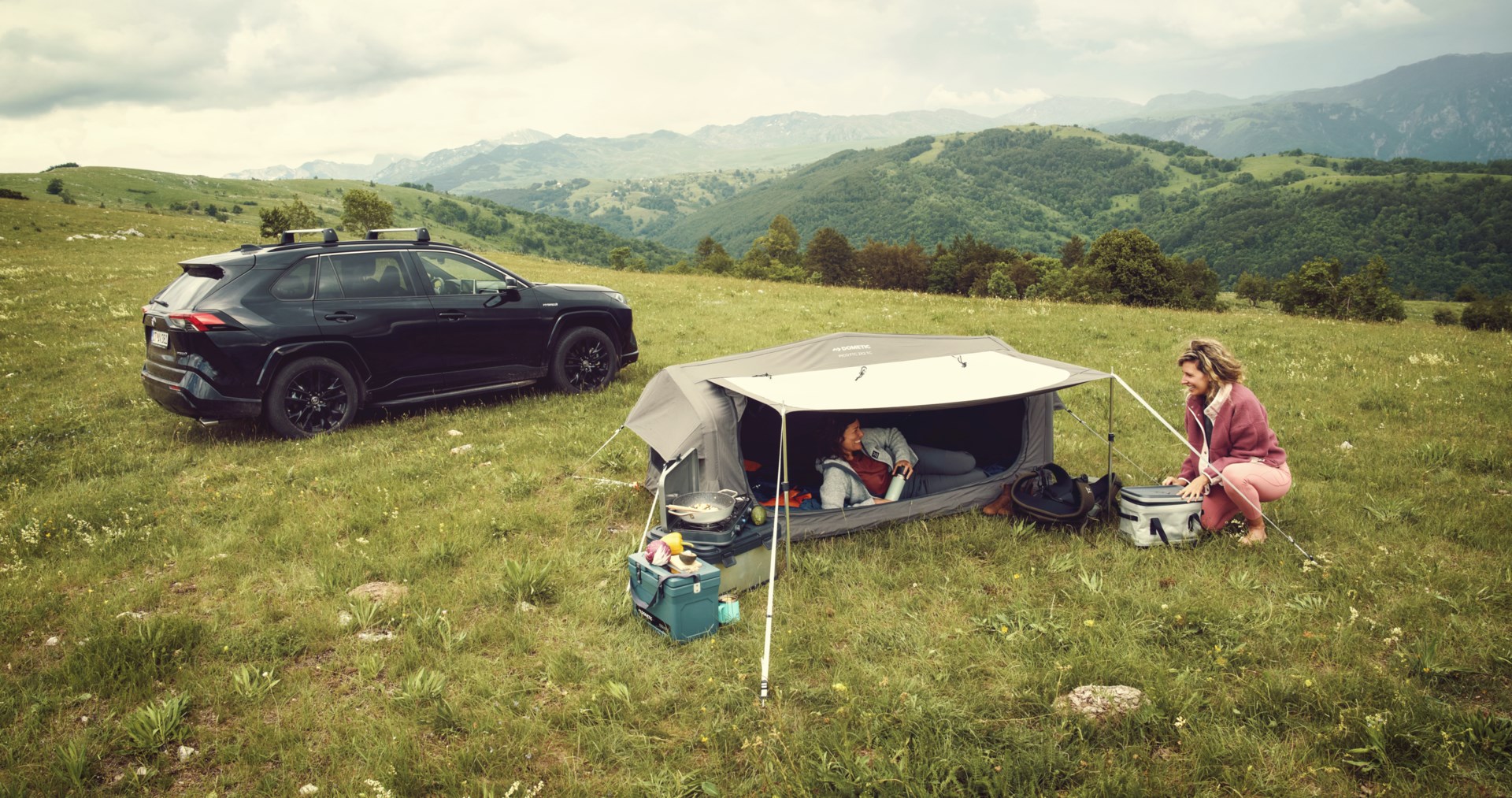 Dometic Tents Guide
Inflatable camping tents built for adventure
Dometic Air Frame has revolutionised camping
Innovative tent design and technology paired with reliable function; the ultra-durable Air
Frame technology used in Dometic inflatable camping tents will transform your vacation.
With ease of use and fast pitching time in mind, our Air Frame system features external
inflation points that double as deflation points. Not only is the Air Frame extremely strong,
it can flex in the wind too, meaning you'll never break or bend a pole.
New from Dometic
Experience our latest tent innovations
MORE INNOVATION. MORE FEATURES. MORE ADVENTURE.
Dometic Tents Feature Guide
Waterproof
Tested to 200L/m2 per hour to ensure that you are kept dry.
Climate Control
High and low level vents create airflow to ventilate your tent. Ventilation helps prevent condensation and improves comfort.
Sleep-Tite Darkened Bedrooms
Inner tents use dark materials to help block out early sunlight for a good night's sleep.
Quickpitch™ Guying System
Heavy-duty straps can be pegged out in seconds. Peg the bottom strap taut and adjust the top buckle to apply tension.
SabreLink™ Ready
Attach up to three lights in the living area. Switch the lights on/off and adjust the brightness remotely. Also suits poled tents.
Tent Folding Lines
Small orange fabric tab markers highlight the folding lines point. Simply fold the back of the tent to this marker which will then give the ideal width to be able to roll your tent away to the ideal size to fit back in the bag.
Luggage Area
The rear storage area is located behind the inner tents of each model and ideal for storing luggage, clothes and other bulky items.
Zipped Blinds
Zipped window blinds with easy-store pockets provide privacy when you need it.
Wider Bedrooms
On average, Dometic bedrooms are the widest available, ensuring a comfortable night's sleep.
Wardrobe Pole Ready
Simply clip-in to either the left or right hand inner tents to add hanging storage to your Dometic tent.
Cable Entry Points
For added convenience, all tents have zipped cable entry points for 12V and mains cable access.
Headroom
Near vertical side walls ensure many Dometic camping tents provide ample living space throughout and generous headroom from front to back.
Materials built to last
Premium, lightweight camping tent materials combine maximum weather protection with effortless handling and pitching. Built to last, to be repaired, cleaned and reused. Dometic materials provide reliable protection from the elements from sunrise to sunset.
Weathershield™ TC
High quality polycotton material allows the tent to breathe, reducing condensation and regulating the interior temperature on hot days.
Weathershield™ 150D
Extremely light and easy to handle. Highly durable and weather-resistant too, this versatile polyester combines great value with dependable performance.
Weathershield™ Redux
Waterproof, lightweight, and environmentally responsible. This polyester is woven from recycled plastic bottle yarn, providing reliable protection from the elements without compromise.
Performance Pitched
Many of our tents include our signature features such as a clever rear storage area and our innovative Quickpitch guying system, that ensures your tent is set-up in minutes. To keep you cool, we've incorporated mesh panels with zipped covers for personal climate control. Dometic Air Frame technology deflates the tent in seconds and stitched tent folding lines indicate how to pack away your tent.
For solo or couple adventurers
1-2 people
Out the car into nature
The outdoors is our inspiration. Our latest camping tent collection has been developed with our innovative Air frame technology – but with more compact designs and smaller pack sizes. This makes packing even smaller passenger cars easy, with room for your tent, gear and supplies. Unlocking great outdoor adventures for all.
Explore the Compact Tent Series
"The Pico has been developed very much with the wanderer as the focus. We wanted to create a smaller tent that kept user comfort at the core of the design. The result is a premium, easy to pitch, comfortable tent that appeals to the adventurer in all of us..."
Richard Eastwood, Product Manager